Barn Doors – Here to Stay, or Already Gone?
Barn doors – either you love them or you hate them. Usually it's a response tied to having the decorative element "Barn" aesthetic in your home. If you've ever been in a barn you know it can be smelly, drafty and they are typically run down, which is not something that a lot of people want in their home. So let's change the key word from Barn, to Sliding Doors.
Make no mistake about it, sliding doors have been a very hot trend for a few years. Some people say that they are an outdated trend that is not only on it's way out, it's gone. Others say that it's still hot hot hot. Owners both love and hate them, depending on which poll you happen to be viewing in which area.
This begs the question, are they right for you? That's really going to depend on what layout you happen to have. If you have a frustrating space in your home that already has you contemplating a pocket door and the budget to implement it, then absolutely go forward with the sliding door. Bi-fold doors are my least favourite door as they restrict the opening and make getting items out of corners difficult. Regular doors require swing space, which can make hallways restricted, conflict with other doors and sometimes be challenging for furniture layout. Pocket doors are great in that they can be locked/latched, but they require having no restrictions of existing plumbing or electrical wiring in the wall that you want to put them in to.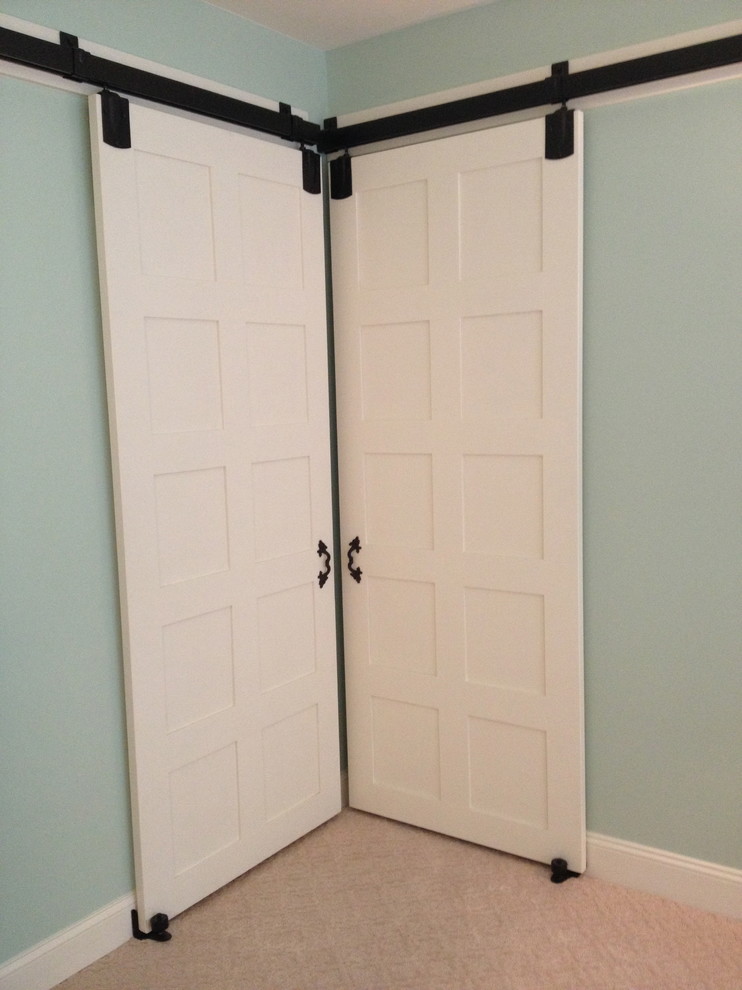 Sliding doors also have their own restrictions. The hardware and usually the door that you pick (especially if it is a solid door) are very heavy. Newer homes will typically have the ability to carry the weight, but older homes may fall apart as soon as you try to hang something that dense. In that case, a pocket door is probably going to cause a lot of construction problems too. They also do not seal to the door opening as they float in front of it which makes them less than ideal if you need a sound barrier as well as visual privacy. Sliding doors also require wall space on which to slide, which you might have wanted to use for artwork.
On the plus side, latches can be purchased and added to your wall if you need a locking mechanism. You can purchase a door much larger than the door opening if you wish to reduce sound. The doors don't have to be rustic, they can be elegant or decorated to suit your style. Sliding doors designed to suit the space and maintain the overall decor are less likely to become fad items that are quickly torn out.
Studies have been done showing the return on investment for barn doors. Depending on the area, they have increased the value of the home significantly and reduced the time on the market by months. In the Greater Toronto Area where there is a lack of inventory resulting in bully offers, bidding wars and selling prices that are way over asking price as standard practice, this information probably isn't going to sway you very much. If you live in an area where those conditions are not the norm, then this information might be helpful if you keep in mind that not all buyers are going to love them.
All of this being said, sliding doors are a solution to creating a living space that suits your needs. Whether you have an architectural challenge to overcome, if you need a visual separation, or if you simply adore sliding doors we believe that  they are a viable solution that will be around for a long time even if they are not as widely implemented as they have been over the past few years.
Besides, if you normally have the sliding door closed and desperately want artwork on the wall that the door slides over, we can build a marvelous art niche for you (or one of the lovely solutions shown below like the sliding mirrors over the window).